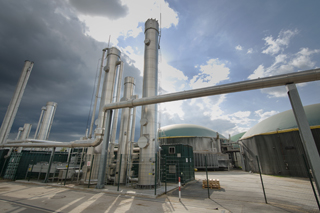 Alternative Power Sources Limited (APS) was incorporated in 2005 from a merger between JamPearl Engineering and Construction (JEC) and Brightlight Solar. The two companies having worked jointly on a project by project basis from as early as 2003.
Alternative Power Sources Limited is a wholly owned and privately held Jamaican company that offers a full suite of combined and a-la-carte professional services and solutions including: Commercial and Residential Electrical Design; Energy Audits; Energy Management; Discreet and Hybrid Photovoltaic, Wind, Micro-Hydro, Solar Thermal and Bio-gas systems; Project feasibility and Return On Investment (ROI) Analysis and Architectural Design. Our clientele includes residential, government and private industry and spans education, hospitals/healthcare, commercial, industrial and manufacturing, services, tourism and hospitality and foodservice.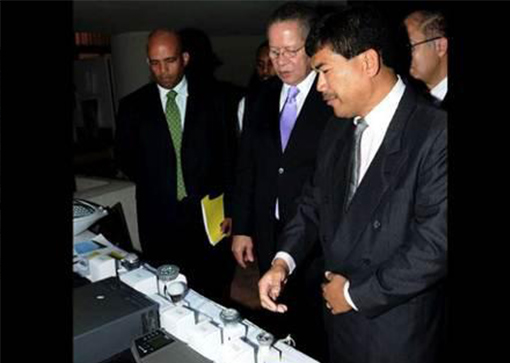 PCJ Energy Seminar 2011
The Jamaica Observer: From left: James Robertson (left), Minister of Mining and Energy; Prime Minister Bruce Golding (centre); and Damian Lyn, Managing Director of Alternative Power Sources, looking at some energy-saving bulbs at the Petroleum Corporation of Jamaica (PCJ) 2011 Energy Seminar Series, 'Jamaica's Energy Future', held at the PCJ Auditorium, Trafalgar Road.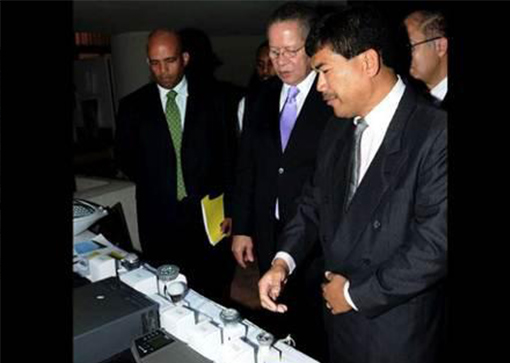 Delivery of our services and solutions are facilitated by relationships with best-of-breed manufactures and technical designers. Key distributorships include Schneider-Electric (formerly Xantrex), Outback Power Systems Inc., Southwest Wind Power, Bergey Turbines, Ningbo Qixin Solar Electric Company, Delta Lightning Arrestors Inc., Trojan Batteries and Calpak Solar Water Heaters, allowing us to offer worldwide warranty and full technical support.
We are also the Authorised Service Centre in Jamaica for these products. APS Limited has installed over 1.82MW of solar photovoltaic capacity with service to over 400 clients in Jamaica and The Bahamas and has provided advice and consulting to individuals and entities in the wider English speaking Caribbean. Recently APS also incorporated in Bermuda with Alternative Power Sources (Bermuda) Limited.
We are dedicated to providing quality consulting, engineering, renewable energy systems and services and to developing the value of wind, solar and hydro energy in Jamaica and the wider Caribbean. We are committed to learning and maintain an association with the Florida Solar Energy Centre (FSEC) and Solar Energy Industries Association (U.S.A.) as one avenue to interact and keep abreast with developing solar technology.
APS In The Bahamas
INSTALLATION OF SOLAR WATER HEATERS – ENERGY CONSERVATION
Scope: APS Bahamas was contracted to install thermosiphon solar water heater units at a medical clinic in Spanish Wells, North Eleuthera as well as at private residence in Bahamia West, Nassau.
INSTALLATION OF PV SYSTEM IN CHARLOTTEVILLE, THE BAHAMAS – REDUCTION IN ENERGY BILL
Scope: APS Bahamas was retained to install a grid-tied photovoltaic system with a battery back-up for residence in Charlotteville, Nassau. Work has progressed satisfactorily and system is about to be commissioned.
Key Outcome: Reduced electricity bills as resident's consumption will be partially supplied by renewable energy source.
INTRODUCTION OF INNOVATIVE RENEWABLE ENERGY PRODUCT – ENERGY CONSERVATION & PR
Scope: APS Bahamas has assumed a leadership role by introducing innovative and more efficient renewable energy product such as LED lights to residents to test at their own properties/facilities.
Key Outcome: Building an awareness in residents as it relates to emerging efficient and affordable renewable energy technology that can aid in the reduction of energy consumption.
THE BALMORAL – ENERGY AUDIT AND RECOMMEND MEASURES FOR REDUCING ENERGY BILL
Scope: Perform a comprehensive energy audit of the colonial Great House in Nassau, Bahamas and develop a detailed plan for reducing its energy bill.
Key Outcome: Presented detailed audit findings and plan for reducing the property's energy bill through specific conservation measures along with ROI analysis supporting the feasibility of strategic use of PV systems to reduce utility consumption while improving the nighttime appeal of its several acres with accent lighting.
Berger Paints Jamaica Limited
Burger King (Liguanea)
Campion College High School
Canco Ltd.
Caribbean Broilers Group Limited
Coast to Coast Quarries
Dixon's Drug Store
DunnCox Attorneys-at-Law
Foundation for International Self Help Development (F.I.S.H. Clinic)
Golden Eye Resort
Grace Food Processors
Grace Kennedy Corporate Office
Bank of Nova Scotia Training Centre
Hawkeye Security Ltd.
Hi-Lo Supermarket (Barbican)
Island Car Rentals Ltd.
Jamaica News Network
Jamaica Public Service Co. Ltd.
Jake's Cottages
LG Esso Service Station
Little Ochi Seafood Restaurant
Meadowbrook Church & High School
McIntosh Bedding
Morgan's Farm
Mystic Mountain
Nunes, Scholefield, DeLeon & Co.
Oakland's Shopping Centre
Paul Bogle High School
Popeye's Fast Food Restaurant
Petcom Service Station (Ocho Rios)
Roman Catholic Chancery & Residence
Sagicor Life of Jamaica Ltd.
Sea Splash Resort
Stella Maris Church
United Nations FAO
Versair In-Flite Service
Jamaica Stock Exchange